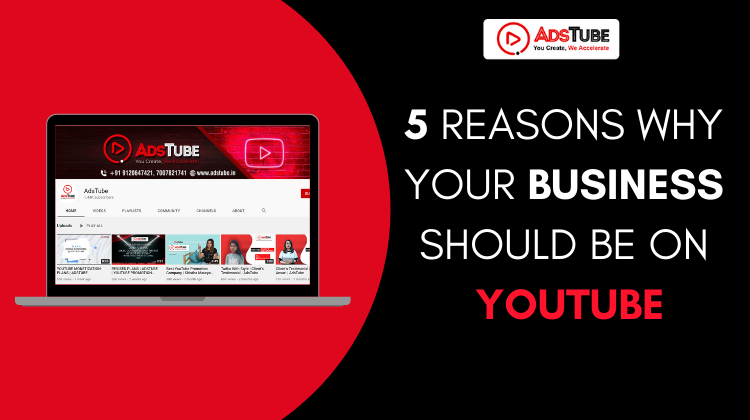 5 REASONS WHY YOUR BUSINESS SHOULD BE ON YOUTUBE
Video captures the emotion of the storyteller in a way that words can't. Video grabs more attention spans with an added feature of personalization and makes complex ideas much easier to explain. This makes it an ideal marketing tool but still not all marketers have embraced the potential of video and distribution channels like YouTube.  So, here are 5 reasons why your business should be on YouTube:
1.       High Reach:
 YouTube is the second most popular search engine in the world with an astounding 2 billion users. Google is at number one and it owns YouTube. So, it, not a surprise that SEO best practices for Google stand true with YouTube as well. Marketers should take into consideration who their target audience is and where they spend their time online. Nearly 5 billion videos are watched every day, which accounts for one-third of all online activity. It goes without saying that marketers should consider YouTube. However, the vast number of other videos are posted, nearly 300 hours of video are uploaded every minute, so it's very easy to get lost in the crowd. To make sure that the YouTube videos get seen by the targeted audience, marketers must make sure that they employ keyword best practices with a strategy and purpose in mind.
2.       Making the brand visible:
Contrary to other social media platforms where users subconsciously swipe through content they see, with YouTube the user has a purpose in mind. That purpose can be finding a solution to a problem ("how to gain more followers on Instagram"), working on a skill like ("learning excels"), or entertainment ("watching vines"). Marketers can step into the shoes of the target audience and think about questions that the customers are asking and addressing them in the title and description of the videos they upload on YouTube. It will make it easy for the target audience to reach the brand.
3.       Boost the engagement:
It is estimated that by 2022, online videos will account for more than 82% of all consumer internet traffic. A big reason behind this is that people prefer to watch a video than read an article. Videos make it easier for people to understand things. Viewers tend to retain 95% of a message when they watch a video compared to 10% when reading that message in the form of a text. So people will not only engage with the content but will also retain it.
4.       Persuasion Power:
The increased traffic, engagement, and shares prompted by YouTube ultimately lead to the conversion of the viewer into a customer and the statistics confirms it. As per Brightcove, 76% of users are more likely to buy a product online after they watch a video relating to that product. Generally, marketers who use video grow revenue 49% faster than those who don't. The math adds up to a positive ROI for the business. YouTube's algorithm is designed in a manner so as to help users find the right video to answer their questions, and then keep them engaged and watching. The cherry on the top, YouTube assists marketers by providing tools like playlists, cards, and end screens to keep users engaged with their videos. This encourages their YouTube video viewers to become their email subscribers, leads, customers, and ultimately, advocates for their brand.
5.       Earning money with AdSense:
Creating regular video content gives marketers the opportunity to earn some money directly from the videos uploaded by them, through Google's AdSense for Video program. They can use Google AdWords and AdSense for Video together to make some money back from their video campaigns too.
YouTube is a viable platform for brands to grow their audience and business in a number of ways. If marketers invest the required time to learn the main components of the platform, YouTube will reveal itself to be a valuable addition to growth.