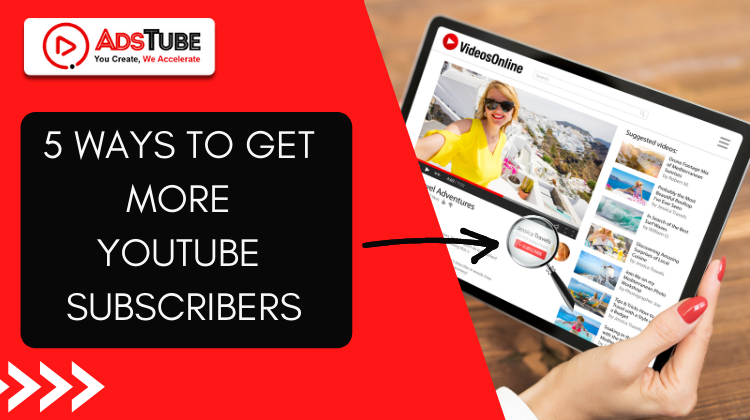 5 WAYS TO GET MORE YOUTUBE SUBSCRIBERS
The number of subscribers is considered while positioning the best content creators on YouTube. Subscribers are deemed most important when it comes to moving the channel to the top and getting more views. As it is very difficult to evaluate the content of any creator on YouTube, the AI assesses by measuring the attitude of subscribers. Various factors like several subscribers, viewing time, whether or not subscribers like video, or whether they press notification ring are considered while ranking the creators. Following are the 5 ways which creators can follow to get more subscribers on their YouTube channel:
1.       Uploading videos frequently:
No doubt creating and uploading videos frequently helps to increase subscribers. If the creator hasn't published in a long time, people won't want to subscribe to his channel. As per Social Media Examiner, YouTube channels that upload videos more than once a week tends to perform better than those that don't. When someone subscribes to any YouTube channel, he gets a notification in his email whenever that channel uploads a new video. If someone gets an email notification once a week, it's more likely for him to engage in that creator's video and channel, especially if the content is content is original, engaging, and informative. So, if creators can upload more than one video in a week, there are more chances of gaining more subscribers.
2.       Optimizing the videos: 
Optimizing the videos helps in ranking the content higher on YouTube. People who see the videos are likely to interact with more of the channel's content. To make sure that the videos reach the right audience, creators can optimize several video elements such as the title, description, video, and other meta tags.
3.       Uploading good quality content:
The audience doesn't like to watch videos that have poor quality audio and video. If the creator uploads a professional video, people will take him seriously and engage with his videos and channels. Following these simple steps can help to create a professional YouTube channel:
•         Creator must make sure that the video of the record in a quiet atmosphere with no ambient noise in the background.
•         Creator should use good quality recording equipment to clear the audio for the audience to hear. Also, the creator must remember to watch the input volume meter while recording the video.
•         Creator can set up a green background and use studio lights during recording.
•         Creator should record his videos in 1080p or higher, as per Backlinko, YouTube prefers HD videos while ranking them.
•         Creator must have the script in place before filming so that he knows what to say and get to all the relevant points.
•         Creator can make use of slow motion and jump cuts to accentuate some parts of your video.
•         Creator should choose good video editing software.
•         Finally, he must review the work carefully before uploading it on YouTube.
4.       Showing a subscriber watermark in the videos:
YouTube allows creators to add a watermark to their videos. This is a great way to remind people to subscribe to the channel. The watermark could be a logo, brand name, or call-to-action.
5.       Buying paid YouTube subscriber: 
People usually follow YouTube with a large number of followers, so buying YouTube followers increases the willingness of the audience to follow the channel. In short, the bought subscribers help in attracting more subscribers to the channel. Even the YouTube channels having millions of subscribers purchase more subscribers to increase the count. Nowadays, it is clear how significant the number of subscribers is in this cut-throat competition when creators are ranked by several followers. Buying subscribers can help in boosting the growth of YouTube channels. Creators, who desire to increase the views, display their channel in better quality and rank their channel at the top prefer to buy subscribers.
 Adstube India helps YouTubers get subscribers for the YouTube monetization of their videos. It is a platform created specifically for YouTube creators. It helps YouTubers grow their channels and reach out to more people. Adstube offers genuine subscribers to the creator who purchases it. Adstube helps increase views and watch time also along with subscribers. These subscribers are genuine which means they increase the engagement of the channel and hence, boost its growth. Paid subscribers purchased from Adstube indeed watch the videos on the channel of the creator who has paid for it.
ADSTUBE SUBSCRIPTION PLANS
Adstube offers 4 different subscriber plans for creators to purchase from. Plan A offers 100 genuine subscribers with 15k+ views for Rs 1800. This plan is best for a creator who has just begun to create content on YouTube.  Plan B provides 200 genuine subscribers along with 30k+ views for Rs 3500. This is also best for beginners, those who have just started their channel on YouTube. Plan C offers 500 genuine subscribers with 75k+ views for Rs 8000. Plan D provides 1000 genuine subscribers along with 150k+ views for Rs 15000. The results are delivered by Adstube within 96 hours of choosing the plan.