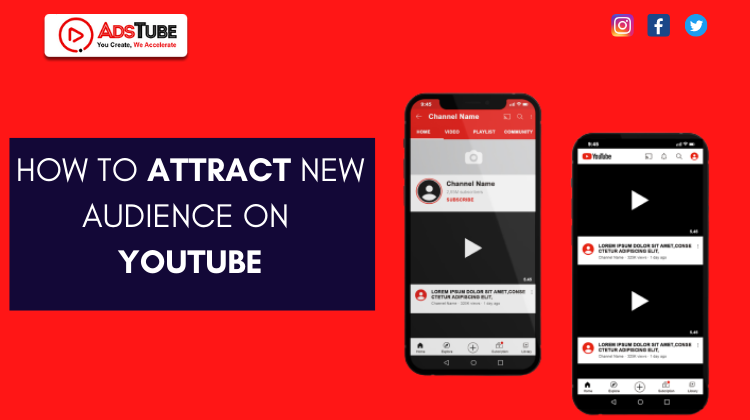 HOW TO ATTRACT NEW AUDIENCE ON YOUTUBE
Video marketing has indeed been on the rise over the past few years, growing ever more popular and accessible for brands. Although popular platforms such as Snap Chat, Facebook, Instagram, Twitter, and even creating own website are great places to invest, YouTube remains the giant in the field as people spend more than a billion hours each day watching videos on this platform. Usually referred to as the world's "second largest search engine," YouTube can help your content be found quickly and engaged thoroughly, you just need to attract an audience to your YouTube channel. You can try the following things that will help you grow your YouTube channel:
1.       Attract and retain the audience by winning their trust and making helpful content:
While making a YouTube video, make sure that it is helpful to your audience so you can build a genuine relationship with those who will watch your content. Make them believe that you deliver good content and that you respect their time. As opposed to insulting their intelligence with click-bait, look to create solid and valuable content that is worthwhile for your audience to watch, like, and share. Once you will prove your YouTube channel's quality, people will definitely come back to see what's new.
2.       Be consistent and upload your content regularly:
While your content should vary, your uploading pace should be predictable. A YouTube creator needs to stick with a consistent uploading schedule for their content. This lets the YouTube audience know when to look for the content on your YouTube channel, and they can anticipate what's coming next.
3.       Engage with the Audience:
You should not overlook the fact that YouTube is also a social media channel, and therefore it demands social interaction. If you're just uploading videos without encouraging comments and discussion, you're missing an opportunity. YouTube rewards channels that have great engagement, including overall time spent on the channel, watch time, likes and dislikes, and most importantly, comments. Try to reply to the comments of your YouTube channel videos.
4.       Push your viewers for Subscriptions
One of the ways you know for sure that viewers are engaged with your content and your channel is when they subscribe to your channel to see any new videos posted. Ask your viewers to subscribe to your channel in each video that you upload on your channel, and keep engaging with your existing subscribed users. If you don't ask your viewers to subscribe, you miss out on many potential followers.
5.       Buying paid YouTube subscriber: 
People usually tend to follow YouTube channels with a large number of followers, so buying YouTube followers increases the willingness of the audience to follow your channel. In short, the bought subscribers help in attracting more subscribers to your YouTube channel. Even the YouTube channels having millions of subscribers purchase more subscribers to increase their count. Nowadays, it is clear how significant the number of subscribers is in this cut-throat competition when YouTubers and their channels are ranked by the number of subscribers. Buying subscribers can help in boosting the growth of your YouTube channel. Creators, who desire to increase the views on their videos and display their channel in better quality and rank their channel at the top prefer to buy subscribers.
Adstube can help you in this process. Basically, it functions because they take your YouTube video and drive it out through their ground-breaking system. AdsTube is The Easiest Way you can go to Get Your YouTube Video Seen by Real Viewers.
 It will help you to accomplish watch time and subscribers for the YouTube adaptation of your videos. Cause your video to circulate the web! Through AdsTube, you can target your audience by age, gender, location, and keywords. Their online YouTube video promotion and advertising procedure are prepared to prevail in each nation so you can be rest guaranteed that collecting natural perspectives from your ideal nation won't be an issue.