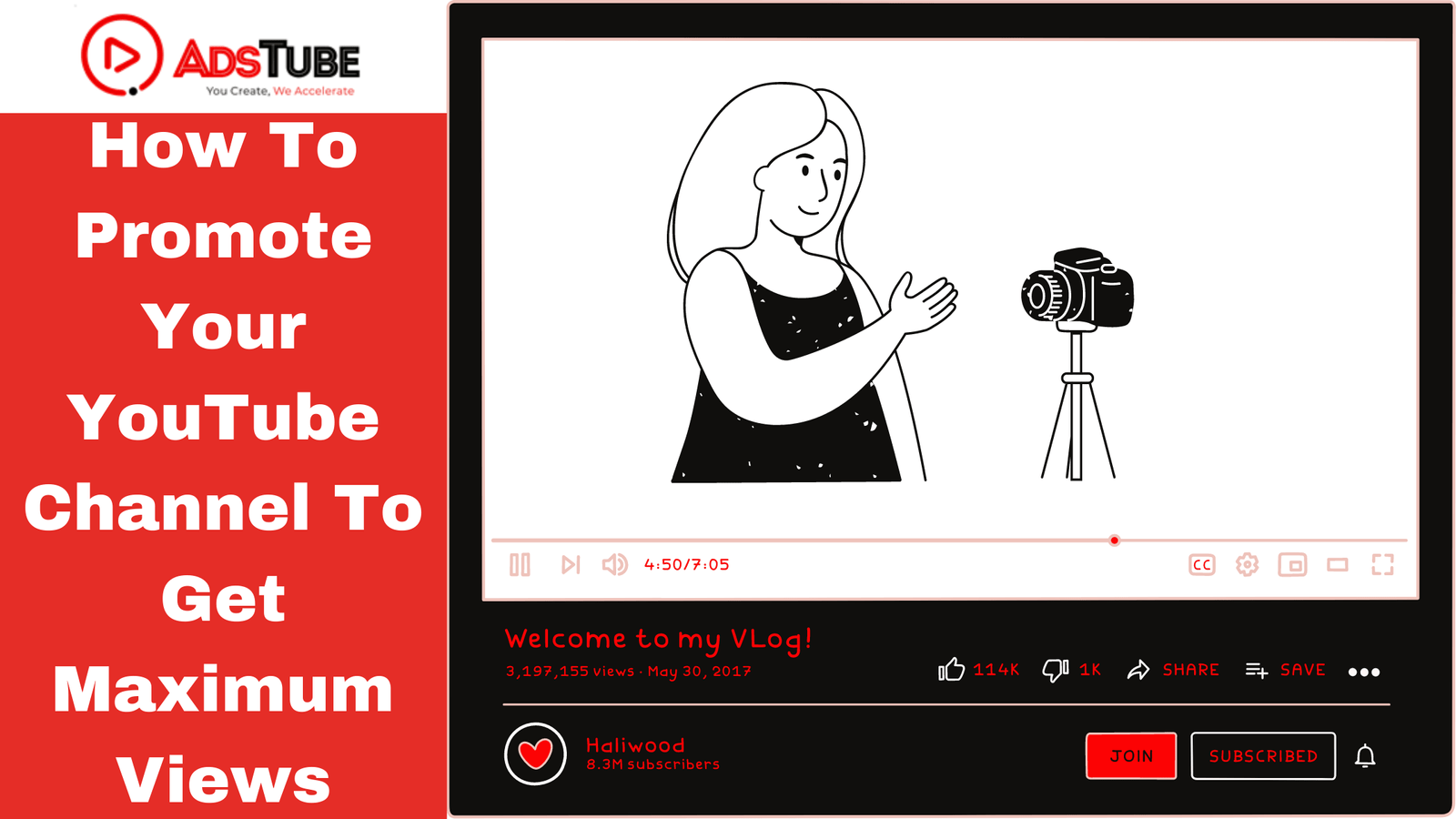 YouTube is the second most visited site on the web after Facebook. It gets more than 1.9 billion active monthly users. If you want to promote your YouTube channel or YouTube videos, there are many paid ways of Advertising. But It is not a only option.
Below we have broken some easy steps by steps for optimizing your YouTube channel. Each of these tips are very simple, effective and 100% free.
1-

Choose user- friendly keywords
A good YouTube channel starts their channel with good SEO, and SEO knows better what users are searching for. There are not a exact rules for which keywords will help you to rank your Youtube videos well. But by using bit reverse-engineering can help you. There are some tricks which help you to find user-friendly keywords for any video.
•

Search possible keywords with a tool like Google Ads Keyword planner.
•

Google one of your options.
•

Scan the Search Engine Results page for each and every keyword.
•

Choose relevant keywords that suit your content.
2-

Write engaging, must see titles
If you want to grow your YouTube channel, your presentation should be good because Youtuber marketing is all about presentation. Titles can make or break when it comes to your video performance. Ask yourself that are you presenting your content as "must see" or not?
3-

Figure out what your audience want
If any type of content you produce, first you should be sure with what your audience wants. Whether you are writing a blog or creating a YouTube video, start through getting to know your audience and what type they are expecting from you. If you are just want to promote your YouTube channel, look at your competitors or other video creators in your industry. This will help you to identify what the audience actually wants.
4-

Interact with your audience
Real engagement always helps you to get a higher number of viewers and content creation. Look at the successful video creators they always Interact with their audience. If possible, respond to the viewer's comment-even the negative ones. Post response and Q&A video. Do some Analytic to identify your top fans and show them some extra love. Your viewers and your subscribers will say thank you for it.
5-

Cross promote your channel
Try to reach out to audiences outside of YouTube to build community around your channel. Find other ways to connect your audience through your blog, email newsletter, and other social media accounts. There are lots of creative ideas to promote your Youtube channel that don't involve posting the same message twice. But here are some simple ways to get you started.
6- Social media
Different social strategies help well for different platforms. Tools like Hootsuite can help easy and smooth this process especially if you're using lots of different social media. GIFs are another fun way to promote YouTube videos on Twitter.
7- Blogging
Do you write blogs for your website? Put videos in your posts of your blog, along with searchable results. This definitely helps you to increase both video and page views. You can also use your blog to create new content ideas for your YouTube channel. Use Google Analytics and other tools to find which posts get the most traffic. Put the end result into the post itself. This will add real value to your blog while encouraging viewers to check out your channel.
8- Email Marketing
Email may be old school, but it's very effective yet. 66% of marketers say that email is well worth the investment and it can help you to generate leads. Create an email list of YouTube subscribers and then, give them a notification every time you post new content. It's an easy way to increase your video's view on your channel. You should take advantage of your email signature too. A simple link to your channel below your name can help to gain subscribers. We recommend you to use a simple icon rather than a long-chain URL.