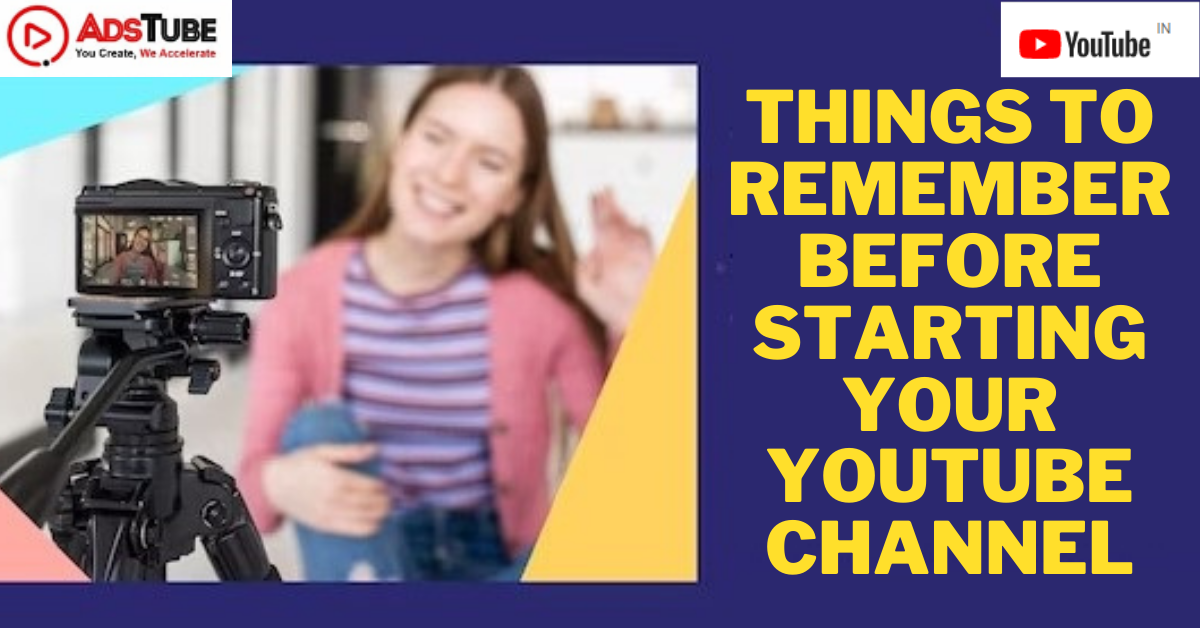 Starting a YouTube channel can make your personal brand? In this article, we will tell you about some basic points to remember before starting a YouTube channel.
As everyone knows the fact that today YouTube is the second largest search engine in the world. Google is the parent company of YouTube. So, Google wants unique and quality content from the content creators on their specific YouTube channel. The main motive for unique and quality content is that Google wants to deliver relevant information to their users. There are some of the rules to keep in mind before starting a YouTube channel.
Measure your competition in your niche – Before creating content, you should first analyze your competition by watching relatable content or videos in your niche. After doing this analysis, you have to make a strategy that how cans I deliver better content or a video in this niche.
Regularity in posting Content or Video – If you are a beginner in your niche, then you have to regularly post videos on your YouTube channel. After some time, you can post 2 – 4 videos per week. When people know you in your specific niche, you can post content or videos according to the visitors and popularity of the content.
Focus on YouTube SEO – SEO means search engine optimization. If you want to be on the top of the searches in your niche, then you have to learn how to do YouTube SEO. This technique will help you to grow your videos and as well as your YouTube channel. YouTube SEO will improve your visibility in your specific niche, if you are entering the World of YouTube then you should have this skill.
Focus on Quality of the Video – Before creating content, focus on the camera quality i.e., the video should not be less than 720p. If your video or content is not of good quality then the user will not engage with you. In starting, you can use your smartphones to maintain the quality of the video.
Structure of YouTube Channel – YouTube channel includes YouTube channel art, Social icons, Playlist of the videos, thumbnail, and YouTube SEO. If you want to create a professional YouTube channel then the above information should be fulfilled. Just keep in mind that if the user will enter to your YouTube channel then what things he will notice first, then you can recreate according to it. You can also create a catchy thumbnail for your videos to attract users.
Don't forget your audio quality – You should also focus on the quality of the audio on your videos, the words should be crisp and clear; don't include unrelatable background music or sound. Create simple language audio so, that user understands better.
Watch competitors' videos or videos related to your niche – When you are creating a video or content for your YouTube channel then you have to analyze your competitors out there, this will help you to create the right video content in less time.
Promote Your YouTube Channel – Create a social page of your YouTube channel or videos on Facebook, Instagram, Twitter, Pinterest, LinkedIn, etc. These social pages will help you to create new users and subscribers so, that your YouTube channel's visibility increases in the minds of people. You can also collaborate with other YouTube channels related to your niche, this will help you to generate a network in your niche and as well as you will get users according to your niche.
Measure Weekly, Monthly, and Yearly results – Use the tool YouTube Studio to measure your results and daily targets. This tool is absolutely free for all YouTube creators, and it is effortless to use, you can easily measure your targets and results. Measuring results will help you to analyze your mistakes and flaws. After measuring your flaws or mistakes you can improve them and can also make strategies related to them.
Learn Video Editing – In YouTube both content and quality matters of the video. You can learn basic video editing on the internet. After using simple video editing software you can switch to advanced video editing software like Adobe After Effects and Adobe Premiere Pro.