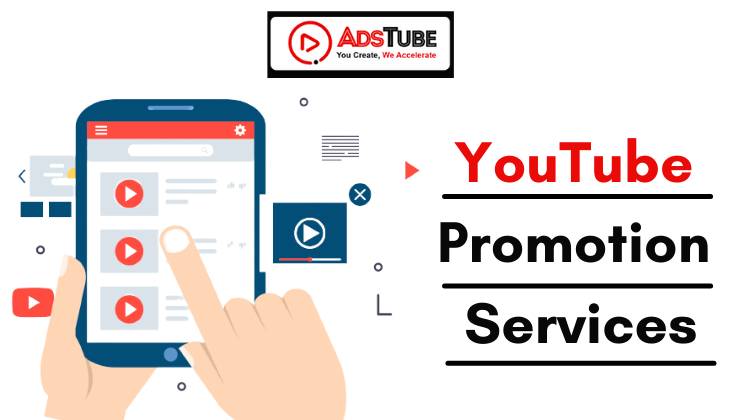 Why YouTube Promotion is important?
YouTube is the second biggest search engine in the world and it is also the second biggest website with over 1 billion registered subscribers.
People watch 1 billion hours of video on YouTube each day. YouTube isn't really showing signs of slowing down, making things pretty clear that people of all ages, from all over the world, love watching videos online.
It is one of the biggest benefits from a promotional point of view. YouTube has a lot of audiences whom any brand can reach. A good YouTube promotion can help you reach more people and improve your results.
Using YouTube to promote your business comes with lots of benefits. You can reach new audiences, and since the service is free which makes it a budget-friendly way to expand your reach.
As Google owns YouTube, YouTube videos rank high in search results, so you will see a significant boost in your SEO results.
Adstube offers the following youtube promotion services:
YOUTUBE VIEWS:
Viewers are encouraged to comment and like your video while they are viewing it. During the promotion of your YouTube video, Adstube will promote your videos to those people who are more likely to like or comment on your videos.
Adstube targets the audience based on the context of your video. To get maximum views on your video, it will be promoted among your ideal targeted audience.
Adstube packages offer absolutely genuine and real views on your videos. They do not practice any type of illegal ways to promote your videos. They only believe in imparting effective and true services to their customers.
If you decide to promote any video through AdsTube's platform, do not have to worry about any fake views/fraud practices.
YOUTUBE SUBSCRIBERS:
Your YouTube subscribes widget is displayed below your video, allowing viewers to quickly subscribe if they like and enjoy your content. Adstube audience targeting will be done based on the content of your video.
Therefore, those people who are more likely to subscribe to your channel will get to see your videos.
Please note that they do not give surety regarding the number of subscribers on their YouTube views promotional packages. The number of subscribers under such services completely relies on the content of your channel.
They only guarantee the number of views with respect to your chosen promotional packages.
YOUTUBE LIKES, DISLIKES:
If you looking to promote a product, a large button to visit your defined website URL will be displayed below your video. The people who will watch your video are free to like or dislike it. Same as before, they do not guarantee anyone a certain number of likes or dislikes on their videos. It completely depends on the type of content in your video.
The number of likes or dislikes relies entirely on how engaging your content is for your audience. It has nothing to do with the number of views or subscribers through any promotional services that Adstube offers.
YOUTUBE COMMENTS:
Obtain additional likes to your Facebook fan page. Your fan page-like widget will be displayed below your video. Perfect for bands, however, the comment section is also very helpful in knowing the feedback on your video's content.
People who watch your videos can simply like it or comment below in the comment section, where they can share their thoughts on your video.
Same as the number of subscribers or likes/dislikes, Adstube does not guarantee the number of comments an individual will gain on their videos after the promotion. Like subscribers and likes/dislikes, it also relies on your video's content.
If the targeted audience is willing to share their thoughts on your videos, they are free to do so, if not, Adstube cannot persuade any individual to do that.