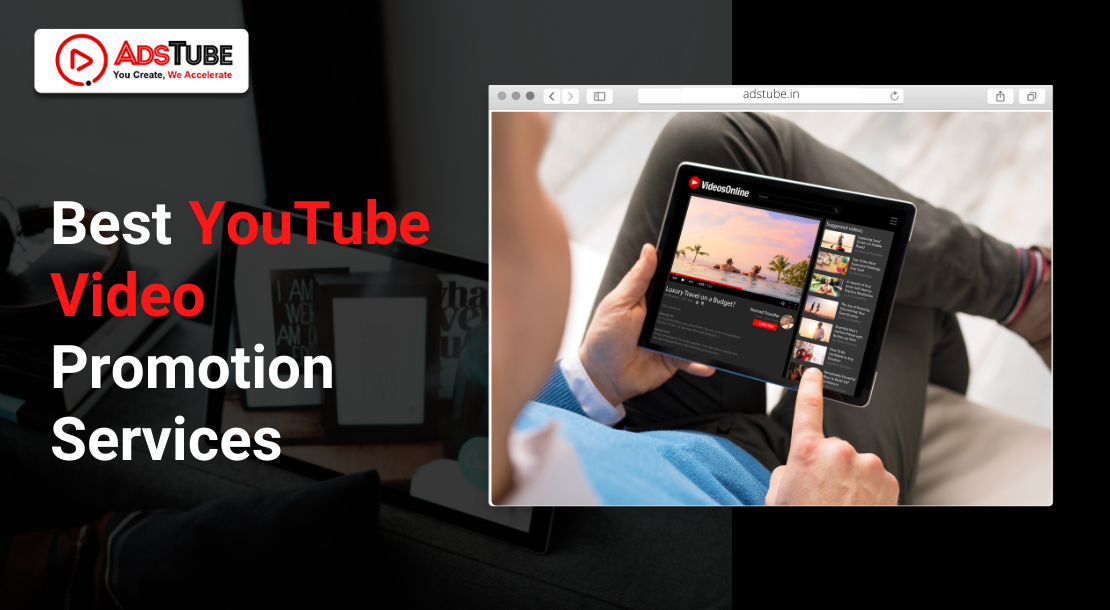 YOUTUBE VIEWS
Visitors are encouraged to comment and like your video while they're watching it. During the promotion of your YouTube video, we will promote your videos to those individuals who are more likely to like or comment on your videos. We target the audience based on the subject of your video. To get maximum views, your video will be promoted among your ideal targeted audience.
Our packages provide completely genuine and real views on your videos. We do not practice any type of illegal ways of video promotion or similar. We only believe in providing effective and true services to our customers. If you are promoting any video through AdsTube's platform, do not worry about any fake views/fraud practices.
YOUTUBE SUBSCRIBERS
Your YouTube subscribes widget will be displayed below your video, allowing views to quickly subscribe if they enjoy your content. As mentioned earlier, our audience targeting will be done based on the content of your video. Therefore, those individuals who are more likely to subscribe to your videos will get to see them.
Please note that we do not give surety regarding the number of subscribers on our YouTube views promotional packages. The number of subscribers under such services completely depends on the content of your video. We only guarantee about the number of views respect to your chosen promotional packages.
YOUTUBE LIKES, DISLIKES
Promoting a product? A large button to visit your defined website URL will be displayed below your video. Whosoever will watch your video is free to like or dislike it. Same as before, we do not guarantee anyone for a certain number of likes or dislikes on their videos. It completely depends on the type of video content.
The number of likes or dislikes depends on how engaging your content is for your audience. It has nothing to do with the number of views or subscribers through any promotional services we offer.
YOUTUBE COMMENTS
Gain additional likes to your Facebook fan page. Your fan page Like widget will be displayed below your video. Perfect for bands and brands, however, the comment section is also very effective to know the feedback on your video's content. People who watch your videos can simply like or comment below, where they can share their thoughts on your video.
Same as the number of subscribers or likes/dislikes, we do not guarantee over the number of comments an individual will gain on their videos after the promotion. Like subscribers and likes/dislikes, it also depends on your video's content. If your targeted audience willing to share their thoughts on your videos, they are free to do so, if not, we cannot persuade any individual to do that.
YouTube Ads Management Services Include
Our YouTube marketing services also help you to run paid YouTube advertising campaigns to get more exposure on
YouTube in terms of more Subscribers, leads, conversions and traffic.
Display Ads
This type of YouTube Ads Appears to the right of the feature video and above the video suggestions list. For larger players, It may appear below the player.
Overlay Ads
Semi-transparent overlay ads that appear on the lower 20% portion of your video. You can find this type of ads in the footer of that running video.
Skippable Ads
Skippable youtube video ads allow viewers to skip ads after 5 seconds if they don't want to watch or interested in your ad. Inserted before, during, or after the main video.
Non-Skippable Video Ads
Non-skippable YouTube video ads cant be skipped and you have to watch the complete ad to watch your video. These ads can appear before, during, or after the main video.
Bumper Ads
Non-skippable YouTube video ads can be up to 6 seconds and must be watched before you watch the video.
Sponsored Ads
In this type of video ads, the users will see a brief "teaser" for the sponsored
Why YouTube Promotion is important?
For the normal individual, YouTube is a pleasant social stage where one can find new craftsmen, clever recordings, and the cutest pup minute. For a few, in any case, YouTube is also a spot brimming with circumstance, a zone with a limitless measure of crowd reach. On the off chance that you think as the last mentioned, we appreciate and identify with your point of view, for you're an advertiser.
While advertisers comprehend that YouTube is an outskirt loaded with conceivable outcomes for their image, numerous additionally dread it, and we're here to assist you with handling that dread. Both a natural and a paid YouTube nearness are profoundly fundamental techniques for an advertiser to embrace while focusing on generally speaking brand development by YouTube promotions.
YouTube is the second biggest hunt organize, missing the mark just of its parent organization, Google. Hence, being the second biggest hunt arrange, this additionally implies YouTube is gotten to a broad measure of times each day. You can simply consider how huge it is then for your picture to have a sort of value on YouTube. Regardless of whether you exclusively have a channel where you transfer videos featuring your image's items, administrations, or tasteful, or you also back up this natural nearness with paid promoting endeavors, YouTube has become an important part of a company's marketing strategy.
For paid endeavors, YouTube can either assume a job in a more secure and deals driven way, or it can have an enormous effect as a mindfulness driver for new clients. The two fundamental YouTube strategies that you can use inside your paid inquiry promoting endeavors are: YouTube remarketing and YouTube prospecting. These paid YouTube endeavors to influence your natural YouTube content (either unlisted or open) housed in your channel to keep supporting and developing your crowd.
1) YouTube Remarketing:
This paid exertion on YouTube is an incredible companion to any brand who a) has a nearness on YouTube, b) directs people to the site, and c) has a progressively limited promoting and publicizing spending plan. While YouTube Remarketing can be utilized by most brands, enormous or little, it is a progressively moderate approach to keep on sustaining your crowd on YouTube. As a little boost, remarketing is a sort of paid pursuit crusade that permits you to re-reach (or retarget or remarket) individuals who have visited and connected with your site in any capacity with marked advertisements. With YouTube Remarketing, you can not just retarget individuals who have visited and connected with your site, yet you can likewise retarget individuals who have viewed your YouTube videos or followed your YouTube channel. It's an extraordinary method to all the more moderately support brand mindfulness on YouTube, keep the contenders under control, and push deals.
2) YouTube Prospecting:
Are you interested in growing your targeted audience? Do you have a natural YouTube channel that can be utilized? At that point, YouTube prospecting is a paid YouTube exertion you ought to consider. All YouTube Prospecting implies is that your paid hunt group can take your excellent YouTube videos facilitated on your YouTube channel (once more, either open or unlisted) and use them in promoting endeavors to contact new individuals. As paid hunt specialists, we'd work with you to derive the most applicable themes, interests, recordings, stations, and catchphrases that apply to your crowd base. From that point, we can target individuals who are significant to your image and important to the crowd you need to develop. We can likewise utilize different segment information – like age – to keep on fragmenting focusing on. The sky's the cutoff (well, nearly)! The objective here is to expand your image to reach and develop your crowd base. From that point, the new individuals you reach right now battle can be piped into your remarketing endeavors for kept supporting!
While YouTube as a stage may appear to be a valiant modern lifestyle, it is unquestionably one that ought to be surprised. Endeavors on YouTube can help both your extra paid hunt crusades, (for example, search, remarketing, and shopping) just as your internet based life endeavors. As you probably are aware, advertising is a full-channel approach and everything associated with one another.